By Melissa Cain, Ph.D., Professor of Education, University of Findlay
MAXIMILLIAN VILLAINOUS. Written by Margaret Chiu Greanias. Illustrated by Lesley Breen Withrow. Running Press Kids. Ages 4-8. $16.99.
Inspired by the Despicable Me movies, Greanias created a famous family of villains known for the pranks they play on the likes of Santa Claus, the Tooth Fairy, and Mother Nature. Unfortunately for Maximillian, he is not at all like his family. When Max brings home sweet little Bart the Bunny, trouble ensues. His family insists that he prove his worth as a Villainous by succeeding in just one task—either steal something, make someone cry, or gain fame by being devious. Each attempt ends in disaster. The leprechaun Max and Bart try to trap traps them. Cupid is too cute to pinch. They pat him on the head instead. When they recruit more bunnies to steal the Sandman's stash of sleeping dust, the bunnies fall asleep instead. Then, as they are trudging home in defeat, children think they are a bunny parade and join in the fun. Suddenly, Max has a positively villainous idea! He matches the bunnies one by one to lonely people. This steals people's hearts and makes them cry tears of joy. Max and Bart gain fame for their thoughtful act, thus accomplishing all three challenges.
Withrow's monsters are brightly-colored pen-and-ink drawings in a child-like style. Children should find the portraits of thirteen generations of Villainous monsters amusing and the bunnies a sweet and cuddly contrast. The final pages show that the bunnies have even melted the hearts of Max's father, mother, and grandfather.
WHO WILL BELL THE CAT? Retold by Patricia C. McKissack. Illustrated by Christopher Cyr. Holiday House. Ages 4-8. $17.95.
McKissack reimagines the old fable of mice planning to put a bell on a cat so they are warned when it is coming. In the original tale, the moral is, "Some things are easier said than done." McKissack overcomes that limitation. Her mice live in an abandoned barn. The mice kindly take in a sick and almost frozen cat, Marmalade, only to have her terrorize them as soon as she gets better. She dismisses any obligation she has to them by saying that it is just a cat's nature to go after mice. Two of the cleverer mice devise a collar with a warning bell, but every attempt to put the collar on Marmalade fails. Even the rats can't overpower her sufficiently. The solution arrives with a human family who bought the farm. Their little daughter takes a liking to Marmalade. When the mice drop the collar where she can find it, she bells the cat. Cyr's appealing mice have big shining eyes and soft fur. His cat is terrifying until the little girl gets ahold of her. The look on Marmalade's face is priceless as she goes from terror to "kitty!" It is hard to say what is most striking— the way Cry lights each page or the way he uses perspective to get the reader right into the action. This is a welcome new version of an old cautionary tale!
YOGA FROG. Written by Nora Carpenter. Illustrated by Mark Chambers. Running Press Kids. Ages 4-8. $14.99.
In this fun introduction to yoga for kids, Yoga Frog wakes up one day not feeling his usual happy, hoppy self. What he needs is yoga! Each double-page spread in the book shows a different yoga pose, starting with the classic Mountain pose and working through a traditional yoga flow of different poses to cooling down in Resting pose. Chambers illustrates Yoga Frog with long, spindly legs and arms so it is very easy for young children to see and imitate the poses. The frog's expressive eyes add to the charm of the book. Carpenter is a certified yoga teacher and explains that children as young as two can benefit from doing yoga. The book also comes in a small boxed set with a bendable toy frog to reinforce the poses and add a little silliness!
SNAIL MAIL. Written by Samantha Berger. Illustrated by Julia Patton. R. P. Kids. $17.99.
Before there was instant messaging and email, it took longer for mail to arrive, causing some to call it "snail mail." This charming book imagines that four mail delivery snails— Dale Snail, Gail Snail, Colonel McHale Snail, and Umbérto— undertake the long journey across America to deliver a special love letter from a girl in California to a boy New York. It is a special, handmade letter, sealed with a kiss and even smelling a little like the girl. Along the way, the snails cross the desert, go through red rock canyons, see many rainbows and sunsets, and visit many iconic American landmarks. No matter what the weather, they are determined to deliver their precious cargo. In a cute twist at the end, the snails fly home because Snail Mail finally got an airplane. Children should enjoy tracing the antics of the cartoon snails as they trek across America. It is amazing how expressive eyes can be when stuck on top of antennae (aka eye-stalks)!
A MOST UNUSUAL DAY. Written by Sydra Malfery. Illustrated by E. B. Goodale. Greenwillow. $17.99.
Poor Caroline! Her day usually starts with jumping into bed with her parents and singing them a morning song. But today is an unusual day and it starts out all wrong. She and Grandma rush to catch the bus and she forgets her lunch and her socks. She has to eat the school lunch with broccoli that she sets up to look like her family. Then she accidentally knocks out her friend Wendy's loose tooth. She even has trouble wiping the tables, feeding the fish, and cleaning the art table. Everyone around her knows it is an unusual day for her and they don't get mad. The reader is kept guessing why the day is so unusual. Finally, the day is over and Caroline's parents pick her up. With them is the reason—her new baby sister!
Goodale's style is an interesting mixture of pen-and-ink line drawings and color. Her sketches outline the characters and some background items in black. Swaths of textured color fill in just the most important parts of each page. Less important parts are colored in shades of tan, causing the important parts to pop out at the viewer. Children should enjoy going back to both the pictures and text to search for the clues that Caroline's unusual day was because of her new sister's arrival.
MARLO AND THE DINOSAURS. Written and illustrated by Christopher Browne. Balzer + Bray. $17.99.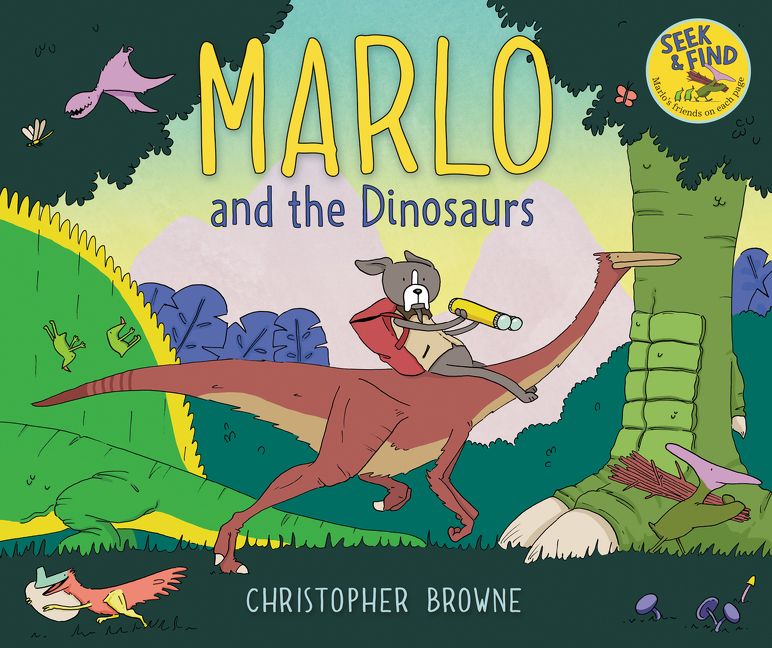 This is the second book inspired by author/illustrator Christopher Browne's rescue bulldog Marlo. This one opens with Marlo napping with his stuffed dinosaur toys. He opens his eyes to a strange sight. A small green dinosaur with a pink head is disappearing into the potted plants with a bundle of sticks over his shoulder. Marlo decides to investigate and enters an alternate world of dinosaurs. What follows are fifteen double-page wordless spreads showing Marlo following the little dinosaur through strange landscapes full of a variety of dinosaurs, spending a miserable night in the rain, and building a rocket to blast off back home. Once there, he is too tired to respond to those magic words, "Time for a walk!" The last picture shows a little stowaway tucked in with Marlo and readers know the adventure could continue.
Browne uses line drawings and pure colors in his art, with little texture and shading. Children should enjoy scouring the pages to find both Marlo and the little stick-carrying dinosaur. Those who are a bit more visually literate might pick up on the fact that the red blanket covering the sleeping Marlo in the beginning magically becomes a backpack with everything he needs for his adventure conveniently packed inside. Children will want to return to this book over and over looking for more details
THE DIGGER AND THE FLOWER. Written and illustrated by Joseph Kuefler. Balzer + Bray. $17.99.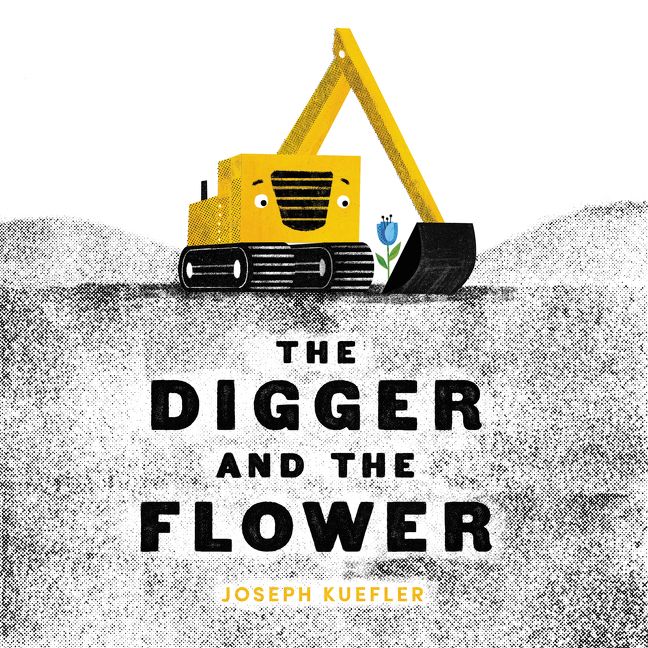 Digger works with Dozer and Crane to build tall office buildings, roads, and bridges in a large city. One day Digger finds a little blue flower in the rubble. How beautiful! He visits it every day. He waters it and shields it from the wind. He even sings a bedtime song to it after he shuts down for the night. Then, Dozer cuts the beautiful flower down. Digger is devastated until he sees three seeds on the ground. He carries them far out of the city before tucking them into the warm earth. Using lyrical language similar to that in the beginning, Kuefler shows the cycle repeating itself with the children of the blue flower.
The art in this book is striking. The big city is black, white, and gray geometric shapes. Dotted half tones add texture. Only the bodies of Digger, Dozer, and Crane have color. Then, Digger notices the flower. It's leaves and stem are the only green in the harsh city environment. Its petals are the only blue. But after Digger notices them, more splotches of color appear in a doorway, a flag, or a car, perhaps signifying Digger's raised consciousness. In the last double-page spread, we see tiny blue flowers spreading back towards the city, a hopeful sign.
WIDE-AWAKE BEAR. Written by Pat Zietlow Miller. Illustrated by Jean Kim. Harper. $17.99.
Elliot is a little bear cub. "Time to nap," his mother says. "We'll sleep 'til spring." Elliot falls asleep and dreams of lazy days under the sun eating fish and berries while enjoying the sunshine, soft grass, and budding flowers. But then something wakes him. He knows he should be asleep, but nothing he tries works. Besides that, the shadows on the walls are creepy! His mother wakes up and shows him that they can make their own shadows of the springtime things they love—bees, trees, and fish. Now Elliot isn't scared, but he is "Still. Wide. Awake." He creeps to the door of their cave and looks out. Everything is covered with snow. Now he is worried that spring will never come. But his mother still has a few tricks to try to get him back to sleep.
This is a reassuring story for young children experiencing nighttime fears. The illustrations were drawn with graphite pencils and colored in Photoshop. Kim used subtle texture to create a soft impressionistic style. Her characters are childlike and appealing. Especially note the spread in which other woodland animals are sweetly hibernating in underground burrows.
JINGLE BELLS. Retold and illustrated by Susan Jeffers. HarperCollins. $17.99. Ages 4-8.
With her usual verve and competence, Susan Jeffers visually extends the old Jingle Bells song in this gorgeous book. It begins with a boy and a girl hitching a white horse to their sleigh. Tucked up in a blanket, they set off in the snow with their little white terrier to deliver a gift for Grandma. Along the way, they encounter all kinds of winter wildlife: white-tail deer, otters, swans, rabbits, squirrels, chipmunks, a red fox, raccoons, mice, and two magnificent snowy owls. Many times the animals are hidden in the snowy natural landscape. Children should enjoy scouting them out and following their antics as they chase each other or play. The little terrier is always in the midst of the fun. Finally, they follow the dog's tracks to a house where they see a sleigh and eight reindeer. Inside are the children's grandparents—Santa and Mrs. Claus! They give Grandma her gift—hockey skates. Then they all set off for the frozen pond, bringing a basket of apples for the wild creatures. Jeffers' design and perspectives are breathtaking! Take special note of the spread with the snowy owls swooping overhead and the one in which swans surround the little dog with their open wings. This book is sure to become a family favorite for the Christmas season.
BIRDS MAKE NESTS. Written and illustrated by Michael Garland. Holiday House. $16.95. Ages 4-8.
Using woodcuts and digital tools, Michael Garland presents a wide variety of birds and the nests they build to protect their eggs and then their hatched chicks. Readers might be a bit surprised at how many different shapes birds use for nests, as well as the places they put them. The book covers common birds like robins, as well as more unusual ones like Sociable Weavers that build a giant communal nest taking up most of a tree. The female Great Hornbill actually holes up in a hollow tree while nesting. Her mate closes most of the hole with mud and then has to feed her. The Great Crested Flycatcher drapes a shed snakeskin over its nest to keep predators away. Even though the text is simple, there are a lot of interesting facts in this book. The choice of colored woodcuts for the illustrations allowed Garland to portray the world of birds with natural color and texture. Each double-page spread in this book is a feast for the eyes!
TOAD ON THE ROAD: A CAUTIONARY TALE. Written and illustrated by Stephen Shaskan. Harper. $17.99.
In this cautionary tale, a young toad sits right in the middle of a road and causes havoc. The rhyming text repeats itself as several different animals and their vehicles come down the road. They all spot the toad just a little too late and crash: "Skid! Screech! Bam!" Each of them tells the toad,
"Hey, little toad, get out of the way!
You could get hurt. That's no place to play.
Vamoose! Skedaddle! Without delay!
What do you think your mother would say?"
The toad ignores a bear on a bike, a croc in a car, and a vole in a van. Finally, a tow truck comes along. Who is driving it? Mama Toad! She tells the little toad that Mama says to get off the road.
Cartoon-style illustrations are perfect for this simple story. Shaskan uses heavy black line to make the characters stand out on the page. Children are encouraged to guess who is coming down the road each time. The page before this is revealed shows the coming vehicle in silhouette, while the text says, "It's a…"
This book is a good one for emergent readers because the rhyming pattern and repetition are easy to remember. Children will also want to watch the fly on each page. Is it playing with or teasing the toad? Is the fly the true cause of all the trouble?
Princess Tales Around the World: Once Upon a Time in Rhyme with Seek-and-Find Pictures
Maccarone, Grace. Princess Tales Around the World: Once Upon a Time in Rhyme with Seek-and-Find Pictures. Illustrated by Gail de Marcken. New York: Feiwel and Friends, 2017. $16.99. Ages 4-6.
This tour de force works on every level. The author, Grace Maccarone, retells ten favorite princess tales in rhyming couplets, an amazing feat in itself. Here is an example from Princess Moonlight:
A bamboo cutter and his wife
were poor and childless, late in life.
The husband, cutting stalks one day,
came across a rare display:
a tiny girl upon a leaf
and casting light beyond belief.
The illustrator, Gail de Marcken, sets each tale in a different country. Sometimes the settings are surprising. For example, The Little Mermaid is set in Northern Africa and features both African and Arabic characters, while The Golden Goose is set in a Mexican village. The double page spreads are sumptuous, with sweeping scenes and interesting perspectives. De Marcken does a great job using colors, clothing designs, and architectural detail to convey the different cultures and settings.
What may draw children most is that de Marcken hides pictures within the pictures for children to find. Each page tells what to look for and the first page explains that there are additional things to seek that appear in every picture. Children will be able to pour over this book for hours!
Moo Moo & Mr. Quackers Present Moo Moo in a Tutu
Moo Moo & Mr. Quackers Present Moo Moo in a Tutu. Written by Tim Miller. Illustrated by the author. New York: Balzar + Bray, 2017. $17.99. Ages 4-8.
Moo Moo and Mr. Quackers live in a city loft overlooking the City Ballet Theater. This gives Moo Moo the idea to be a ballerina. She whips out her sewing machine, makes a big pink tutu, and sets about practicing. Skeptical Mr. Quackers stands by watching and reminding Moo Moo that she has never had lessons. Even though Moo Moo is clearly a klutz, she is not deterred. They buy tickets to the show, but Moo Moo sneaks backstage. Mr. Quackers sits in the audience cheering her on as she pirouettes across the stage, bowling over the other ballerinas. In a spectacular double-page spread, we see Moo Moo flying high in a magnificent leap while the stunned audience looks on. Moo Moo crashes into the orchestra, and she and Mr. Quackers are kicked out. Then they go home to plan their next adventure, this time something they can do together. The surprise last page shows poor Mr. Quackers caught up on Moo Moo's latest scheme. Miller's appealing cartoon style appears simple, but don't be deceived: he incorporates complex perspectives and lots of interesting details. Readers are left hoping that Miller will make Moo Moo and Mr. Quackers into a series.
The Legend of Rock Paper Scissors
THE LEGEND OF ROCK PAPER SCISSORS. Written by Drew Daywalt. Illustrated by Adam Rex. New York: Balzar + Bray, 2017. $17.99. Ages 4-8.
Daywalt, author of THE DAY THE CRAYONS QUIT, presents a legend of the origin of the Rock Paper Scissors game. In the Kingdom of Backyard, a warrior named Rock defeats Clothespin and Apricot before setting off for new challenges. Meanwhile, in the Empire of Mom's Home Office, Paper has easy wins against Printer and Half-Eaten Bag of Trail Mix before questing for further glory. Likewise, in the Kitchen Realm, Scissors defeats Roll of Tape and Dinosaur-shaped Chicken Nuggets. The warriors meet in Two-Car Garage and discover, to their joy, that they are worthy opponents of each other! Today, their three-way round of defeating, and being defeated by, each other is honored by children on playgrounds everywhere!
Rex's personified characters are sure to delight young readers. They look like 3-D animation straight out of the movies. The type fonts became part of the illustrations as well. When the characters challenge each other, the words are big, bold, and capitalized.
I Do Not Like Al's Hat
I DO NOT LIKE AL'S HAT. Written and illustrated by Erin McGill. Greenwillow. $17.99.
Herb is a rabbit. His boss is Abracadabra Al, a magician. Herb loves the spotlight and the applause. He even gets lots of carrots. But, Herb hates being pulled out of a hat by his ears. Ouch! He sets off to find a new job. He contemplates being a wild rabbit and a farmer, but those have their own issues. Then he sees an ad to be a pet rabbit and meets Sophie. Sophie loves to pretend and—best of all—she introduces him to carrot cake!
This charming story of finding a place to belong is illustrated in bold, mixed-media double-page spreads. Herb is made of white felt outlined in black stitches, a collage placed on painted backgrounds. Extra written texts, like the Carrot Chronicle classified ads and Herb's lists of potential jobs of rabbits, add to the fun, as do giant thought balloons that show Herb thinking through his choices.
On Duck Pond
On Duck Pond. Written by Jane Yolen. Illustrated by Bob Marstall. The Cornell Lab Publishing Group. $15.95.
The Cornell Lab of Ornithology publishes books for bird and nature lovers. Picture book master Jane Yolen uses rhyme and rhythm to describe a disturbance that starts off with a flock of ducks landing on Old Duck Pond. This creates a "chitter(ing), whistl(ing), chatter(ing) rumpus that ripples out to the other pond residents. Tadpoles, frogs, turtles, trout and a heron all startle and flee.
"And then the pond grew mirrored, stills.
Wild things returned, as wild things will."
This wave of disturbance turning to calm creates a bond between the observer and the wildlife in the pond.
Bob Marstall's watercolor illustrations are true to life in color and style. They beautifully reflect the action of the ducks' disturbance and then the settling down of the whole scene. At the back of the book, readers will find facts about the pond habitat, pictures of different birds that Marstall illustrated, and a challenge to find the other animals that gather around the pond. This enchanting book is sure to inspire readers to take nature walks to witness the actions, as well as the stillness, of the wild creatures they see.

Escargot
Escargot. Written by Dashka Slater. Illustrated by Sydney Hanson. Farrar Straus Giroux. $16.99.
In this interactive picture book, Escargot, a cute French snail dressed in a blue and white striped shirt, a red bandana and a black beret, tries to convince readers that he should be their favorite animal. Escargot says he is traveling towards a lovely salad at the end of the book, which he hopes does not contain carrots. He dislikes carrots. While he travels, he describes the traits he has that should make him a favorite animal. First he asks which of his parts—shell, neck, or tentacles—readers like best. Then he asks if his slimy trail keeps readers from liking him. If so, they should just think of it as shimmery stuff. Perhaps he is too shy. He shows the fierce face he makes to scare off carrots and asks the reader to make a fierce face. And so it goes to the inevitable conclusion—a salad with carrots in it! What is Escargot to do?
Sydney Hanson has worked for several animation shops, including Walt Disney Animation Studios and DreamWorks Studios. Her little snail character is as delightful as any animated character on the big screen. His facial expressions convey a variety of emotions as he charms his way into the reader's heart. Most of the colors in the paintings are muted except for Escargot, who boldly stands out on every page. His whole travel adventure is on a picnic table covered with a red and white checked tablecloth and filled with typical French items—cheeses, crackers, grapes, olives, tarts, and wine bottles and corks. Readers will learn a few French words and phrases as well. Escargot is "magnifique." He gives out kisses. "Mwah!"
NOISY NIGHT
NOISY NIGHT. Written by Mac Barnett. Illustrated by Brian Briggs. Roaring Brook Press. $16.99.
NOISY NIGHT opens with a child lying awake. "What is going LA LA LA above my head?" he cries. The illustration shows him standing on his bed with a quarter of the room above him showing. Readers see a pair of shoes with spats and the tail of a formal coat. A page turn reveals that it is a man singing opera. But on the next page, we find that he too is being bothered. "What is going ma, ma, ma above my head?" he cries. When readers turn the page, they see a cooing baby. Thus the pattern continues. Children should enjoy guessing who is overhead on each page and discovering the crazy variety of tenants: sheep, cowboys, a girl practicing a trumpet, a crow, some cheerleaders and a couple dancing the cha cha. At the very top, an old man hollers, "Go to bed!"
Bold is a good word for the art in NOISY NIGHT. The type fonts are big and black. The floors, people, and animals are outlined with thick, black line. The walls and floors are colored in contrasting colors in bold patterns. Clever use of white in the characters, baseboards, and conversation bubbles offsets the black and draws the eye across the pages. Briggs's characters and facial expressions are lively. This book is sure to become a favorite. The simple concept of noisy neighbors above our heads is memorably executed.
GOOD NIGHT! GOOD NIGHT!
GOOD NIGHT! GOOD NIGHT! Written and illustrated by Carin Berger. Greenwillow. $17.99.
Mama Bunny is trying to get her three little bunnies to go to sleep. She does her usual bedtime ritual of "good-night stories, good-night songs, good-night hugs, good-night kisses, and good-night hugs. Again." But it is not enough. Her little bunnies want dances, monsters, jumping beans, monkeys, sips, snuggles and tickles! Mama goes along until tickles. There she draws the line and with tiptoes and whispers finally sneaks away from her sleeping bunnies. Berger often repeats the sequence of good-night activities, so the book reads like an accumulative tale. Her collage illustrations depict the family's warmth and love, as well as the lively actions of the not-so-sleepy bunnies and their harried mother.  The background colors change with the activities: yellow as the lights are on while the bunnies look under the bed for monsters and deep blue as it gets later and the bunnies finally get sleepy. The last double-page spread pays homage to Margaret Wise Brown's classic Good Night Moon. Instead of looking for the mouse on each page as in Good Night Moon, children can find the bunny children's toy bunny.
XO, OX: A Love Story
XO, OX: A Love Story. Written by Adam Rex. Illustrated by Scott Campbell. Roaring Brook Press. $17.99.
This entire book is a series of letters between Ox and Gazelle. Ox loves Gazelle and writes to her to tell her so. He signs his letter XO, OX. Gazelle wants nothing to do with Ox. Her first two replies to him are form letters saying that she has many admirers and cannot reply to each one. He persists, telling her she is smart for having written him twice using the same words. As the letters go on, persistent Ox is completely oblivious to the fact that Gazelle wants nothing to do with him. A surprise twist at the end results from Ox sending a picture of himself to Gazelle. Campbell's cartoon-style illustrations show elegant Gazelle in movie star settings, each predominately pink and full of curving lines that reflect her lithe form. Practical and devoted Ox is shown in plainer, more realistically colored, surroundings. There are amusing extra characters worked into the illustrations as well. Children should also enjoy how the front endpapers show Ox and Gazelle doing things separately and the back endpapers show them doing things together.
The Most Perfect Snowman
The Most Perfect Snowman. Written by Chris Britt. Illustrated by the author. Balzer + Bray. $17.99.
Poor Drift is a lonely snowman. He was made in a hurry and only has two sticks for arms and the traditional eyes and mouth made out of coal. The other snowmen are fancier than Drift with their carrot noses, hats, scarfs, and mittens. They tease him and don't include him in their play. Then some children find him and give him everything he needs to be perfect: a hat, mittens, a scarf, and best of all, a big orange carrot nose. After a wonderful day of play, a blizzard comes and blows everything away except his carrot nose and scarf. These he offers to a little rabbit he finds lost, hungry and trembling in the cold snow. Charming illustrations depict Drift's path through the snowy landscape first watching the other snowmen and then playing with the children. Britt is especially adept at portraying Drift's range of emotions from loneliness and longing to joyful fun and, finally, caring.
This Book is Out of Control!
This book is out of control! By Richard Byrne. Illustrated by the author. Henry Holt. $16.99. Ages 4-8.
In this interactive picture book, Ben has a new remote control fire truck. Each time he pushes a button, though, nothing happens—except to his neighbor Bella's dog. When Ben pushes the UP button, up goes the dog. SPIN makes the dog look like he is in a dryer! Ben and Bella are oblivious to the dog's dilemma until they press the VOICE button and the dog says, "Help! This book is out of control!" On go the crazy situations until a clever twist at the end puts the remote in the right hands, or perhaps paws! The illustrations are in a charming cartoon style. Other books in this appealing series are This Book Just Ate My Dog and We're In The Wrong Book.
GO TO SLEEP, MONSTER!
Cornell, Kevin. GO TO SLEEP, MONSTER! Illustrated by author. Balzer + Bray. $17.99. Ages 4-8.
Cordell takes the idea of the monster under the bed to new heights, or rather new lows! When George can't sleep for fear of the monster under his bed, his sister Anna takes charge. She finds the goofy purple monster lurking there and tells it to stop scaring her brother and go to sleep! But the monster says he can't sleep because of the monster under the floor. Down and down they go, confronting more monsters until they get to the center of the earth. There, they find the cause of it all, a very lonely monster. The solution is simple and satisfying.
Cordell is a master of casting away nighttime shadows with light. His charming monsters, with their expressive eyes, will charm readers. The house that George and Anna live in, shown on the acknowledgements page, is a scary gothic mansion. The view of the house again on the last page will challenge children's visual literacy. What in the world happened?
This book will surely be an instant classic! The topic is universal and Cordell's approach is fresh and inviting.
Frank and Lucky Get Schooled
Perkins, Lynne Rae. Frank and Lucky Get Schooled. Illustrated by the author. Greenwillow. $17.99. Ages 4-8.
Through cartoon-style frames and conversation balloons, Perkins shows Frank having a terrible day. Meanwhile, a black lab is having an equally bad one. They both end up at the animal shelter. On a double-page spread, we see the perspective of each looking at the other through a cage door. Suddenly, it is Frank's Lucky day and Lucky's Frank day!
The rest of the story is about what Frank and Lucky learn about each other and their world. Through these interactions, readers learn that science is about wondering, asking questions and observing. They learn botany when Lucky comes home with burrs stuck to his fur. When Lucky is too curious about a skunk, they learn about chemistry and experiments. The question, "How much of the bed belongs to Lucky and Frank?" leads to fractions. History is the stories of some famous dogs and what Lucky once did to a birthday cake. Lucky even inspires Frank to create art. Frank realizes that Lucky's strengths are hospitality and communication, even in multiple languages.
This is a really fun look at what it means to have a dog. Children may find the book useful in their campaigns to convince their parents to adopt a dog.
One Day in the Eucalyptus, Eucalyptus Tree
Bernstrom, Daniel. One Day in the Eucalyptus, Eucalyptus Tree. Illustrated by Brendan Wenzel. New York: Katherine Tegen Books, 2016. $17.99. Ages 4-8.
Daniel Bernstrom's love of words shines through in this rollicking original folktale. When a huge snake swallows a boy with a whirly-twirly toy, he begins scheming how to get out. What follows is an accumulative story in which, prodded by the boy, the snake swallows more and more jungle animals. Finally, a little fly is the last straw for the snake, and everyone is freed.
Brendan Wenzel's illustrations cleverly show who is in the dark and who is being swallowed. Big eyes, scared expressions, and the snake's extended belly add to the humor. The appeal of this book lies both in the lively illustrations and in phrases that roll off the tongue, like "cheep, cheep came a chirp," "wiggle-waggle stretched the snake," "slurp, buuuuuuuurrrrp! came a belch," and "I've a crummy tummyache."
One little two little three little children
DiPucchio, Kelly. One little two little three little children. Illustrated by Mary Lundquist. New York: Balzer + Bray, 2016. $17.99. Ages 4-8.
This delightful book plays on "One little, two little, three little Indians."
"One little, two little, three little children.
Loved little, hugged little, snugged little children.
Cry little, shy little, my little children.
All children 'round the world."
Additional verses celebrate daddies, mommies, homes, singing, and families "all 'round the world!" The rhythmic text is ideal for reading aloud and is sure to capture the attention of the young audience. Lundquist's cartoon-style illustrations, colored in soft watercolors, perfectly convey the joys and activities of family life. The setting mostly appears to be a large American city, though many of the scenes could be anywhere. The real focus is the activities of the lively multicultural characters. This book is one of those rare instant classics.
Hoot and Peep
Judge, Lita. Hoot and Peep. Illustrated by the author. New York: Dial Books for Young Readers, 2016. $17.99. Ages 3-5.
Judge uses a palette of blue and brown watercolors to evoke Parisian nighttime scenes of rooftops, the Seine River, Notre Dame's bell tower, gargoyles and flying buttresses from the viewpoints of two little owls. Peep is finally old enough to join her brother Hoot on the rooftops. Hoot is anxious to impart his brotherly advice, which is that owls always say, "Hooo." But independent Peep wants to sing about the mystery of things, imitating what she hears around her.
"Schweepity peep cooo, ding dong bong" comes from the bells and the tower's charming inhabitants—some lively mice, a watchful crow, and cooing pigeons. "Slippity slap" is the Seine lapping against stone. This causes a rift until Hoot realizes that he misses his little sister and can learn from her. The perspectives and facial expressions in this book are sheer delight, as is its message of listening to your heart. Swirling points of light on each page enhance the quietly mysterious atmosphere. Lita Judge will be a keynote speaker at the 2016 Mazza Summer Conference on Wednesday, July 20th.
Silly Wonderful You
Rinker, Sherri Duskey. Silly Wonderful You. Illustrated by Patrick McDonnell. New York: Balzer + Bray, 2016. $17.99. Ages 4-8.
Rinker, author of the No. 1 New York Times Best Seller Goodnight, Goodnight Construction Site, writes a joyful love letter to a child, telling her how life changed when she arrived. Rinker's use of rhythm, rhyme, and onomatopoeia makes the language in the story pop: "I never imagined before you came along…that our house could get this messy and LOUD! Or that you'd be so silly, and giggly, and splashy, and crashy!" The result is tender, humorous, and fun to read aloud.
The illustrator, Patrick McDonnell is the creator of the internationally syndicated comic strip MUTTS. His cartoon-style illustrations beautifully convey the action and humor of the story. The touching ending may bring a tear to the eye and inspire extra cuddles—even with the most stinky, slimy, grimy, and climb-y kids. Author, Sherri Duskey Rinker will be working with the writing strand this summer at the Mazza Summer Conference.
Chicken Lily
Mortensen, Lori. Chicken Lily. Illustrated by Nina Victor Crittenden. New York: Henry Holt and Company, 2016. $16.99. Ages 4-8.
Lily is a lot of things—careful colorer, patient puzzler, and the quietest hide-and-seek player. But she is also a chicken! When her other animal schoolmates take the training wheels off their bikes, Lily says she will—someday. When they offer a taste of their lunch, she sticks with her chicken feed. During class, she never makes a peep. Then their teacher, Mrs. Lop, announces a big Grand-Slam Poetry Jam. No way does Lily want to participate. It would mean writing a poem and reading it in front of everyone! She is just sure if she participates, she will fall flat on her beak! Then Lily realizes that she will be just as embarrassed if she is the only one NOT reading a poem. She draws upon her patient puzzling ability to solve her problem.
April is Poetry Month, and this book is out just in time to promote poetry in the home and classroom. The poems written by Lily and her friends are appropriately childlike and fun. Children should also enjoy finding Lily's little ladybug companion on each page. Those who are old enough to understand them will appreciate the chicken jokes sprinkled throughout. Crittenden's cartoon-style, pen-and-ink illustrations are painted in soft watercolor wash. The endpapers show "photos" of all of the classmates.

 Looking for Bongo
Velasquez, Eric. Looking for Bongo. Illustrated by the author. New York: Holiday House, 2016. $16.95. Ages 3-6.
Eric Velasquez illustrates a loving Afro-Latino family in this tale of a little boy looking for his lost stuffed animal, Bongo. He just can't watch TV without Bongo, so he sets about asking everyone in the house if they have seen him, including his grandmother Wela, the cat Gato, the dog Daisy, his father, and his mother. Wela and his mother answer in Spanish and English, his mother urging him to go look for himself. As the boy looks, readers can see that he lives in a colorful house immersed in books, art, and music.
Finally, he finds Bongo among his father's drums. Remembering that he had Bongo in bed with him the night before, he comes up with a clever solution to the mystery of how Bongo disappeared. This is revealed in the last double-page spread.
A final page discloses that Bongo is the name of a large African forest antelope, making readers look back to see if the stuffed Bongo is perhaps one of those. This page shows that bongos also refers to a set of small drums that originated in Cuba. The larger drums in the illustrations are Conga drums from Africa.   
Velasquez says he diverged from his usual realistic paintings in creating this book. Instead, he went for "stylized drawings that underscore the universal nature of loss and reunion." The resulting oil paintings are full of rich color work. The characters are slightly distorted, with faces that express sorrow, wonder, happiness, and surprise. Velasquez also depicts light in striking ways, especially in his nighttime scenes, and is masterful with shadow. "Looking for Bongo" is a fine representation of cultural universals.